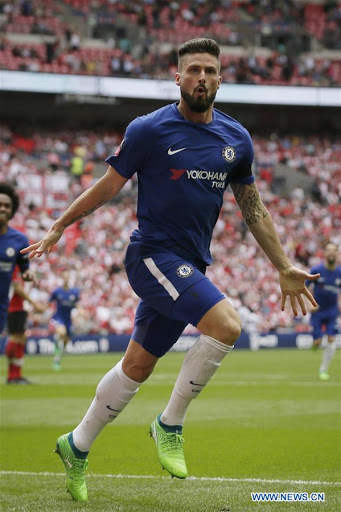 Chelsea have extended their contract with French striker Olivier Giroud for one year to 2020-2021 season, announced the Premier League side on Wednesday.

"An option to extend the striker's contract by a year was taken last month, ensuring his two-and-a-half-year stay at Stamford Bridge, which was due to end at the conclusion of the current campaign will continue," revealed the London club.
Giroud, 33, joined Chelsea from Arsenal in January 2018. He has made 39 starts and 37 sub appearances for "The Blues" and scored 21 goals.
"I am delighted to continue my journey and adventure at Chelsea. I can't wait to get back to playing and enjoying competitive football with my teammates," said the Frenchman. "I'm looking forward to wearing the Chelsea shirt again, especially in front of our fans at a full Stamford Bridge, whenever it is safe to do so."
The Premier League clubs have been allowed to start small-group training from Tuesday after the top-flight football league in England was suspended on March 13 due to the coronavirus outbreak.